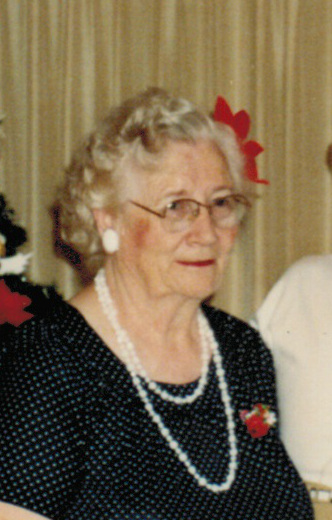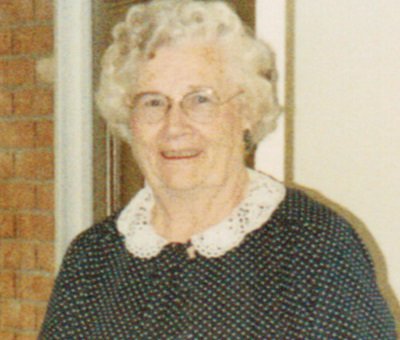 In Memory of
Miriam D. Adair
1915 - 2017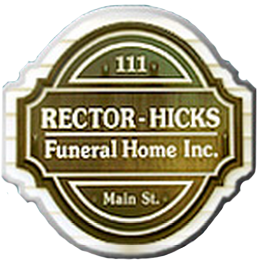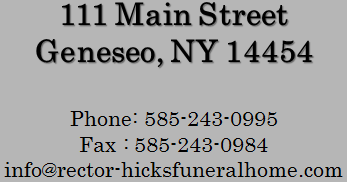 Obituary of Miriam Adair
Miriam D. Adair, age 101, of Jamesville, NY, formerly of Geneseo and Largo, FL., died Saturday, May 13, 2017 at Iroquois Nursing Home in Jamesville, NY.
She was predeceased by her husband William "Billy" Adair, her son Edward Adair and her granddaughter, Jeanine Adair Sikorsky.
She is survived by one son, William "Jack" Adair Jr. of Liverpool, NY, 2 grandchildren, Wendy Adair Meade of Syracuse and Joyce Adair of Buhl, MN, several grandchildren and cousins.
Miriam was born August 15, 1915 in Ireland the daughter of George and Alice Harbison Dodds. She married Billy Adair on October 5, 1935. Miriam was employed as a salesperson for Beeline Fashions based in Berensville, IL.
No prior calling hours. Graveside Services will be held Friday, May 19, 2017 at 3 PM in Temple Hill Cemetery, Geneseo, NY with Rev. Dr. Nancy Lowmaster officiating of the Central Presbyterian Church in Geneseo.
In lieu of flowers, memorials may be made to the Teresa House, 21 Highland Rd., Geneseo, NY 14454 or to Temple Hill Cemetery, PO Box 305, Geneseo, NY 14454.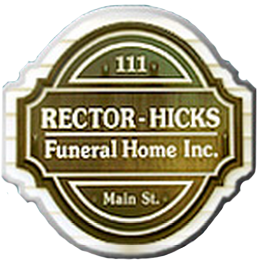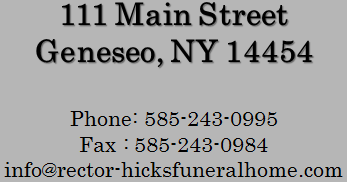 111 Main Street - Geneseo, NY 14454 - Phone: 585-243-0995 - Fax : 585-243-0984 - info@rector-hicksfuneralhome.com