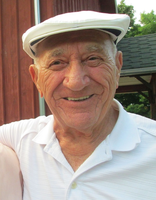 Joseph F. Griffo
Joseph F. Griffo was born in Mt. Morris on July 4, 1926. His family moved to Geneseo in 1939 twelve years after his father established a barber shop on Main Street. Joe graduated from Geneseo Central School in 1944 and enlisted in the U. S. Navy. He was assigned to the Naval Training School at Purdue University where he completed training in electrical and radio work.
He served his country during World War II in the South Pacific during the liberation of the Philippines on a Patrol Craft Escort south of Manila and convoyed the 1st US troops to Japan after the atomic bomb and the Japanese surrender. For his service Joe was awarded the American Theatre Medal, the Asiatic Pacific Medal, the Philippine Liberation Ribbon, and the Victory Medal. In 2009, he was privileged to travel to Washington D.C. with other local veterans to visit the war memorials as part of the Honor Flight Network.
After the war Joe returned to Geneseo and attended Geneseo State College and Alfred State graduating with an accounting degree. He went to work for the county Welfare Department in 1952 then as Deputy County Treasurer from 1956 - 1969 and was elected five times as County Treasurer from 1970 to 1987.
Since retirement from the County, he was elected to the Geneseo Town Board and served as a trustee from 1990-1998. He also served in numerous capacities in various organizations including: the board of Five Star Bank, the United Way, Blue Cross and Blue Shield, District Commissioner of Boy Scouts, Kiwanis, as Past Commander of the Frederick Totten VFW Post, the American Legion, and St. Mary's Men's Club. Mr. Griffo has also volunteered his services as a driver for the Red Cross and the local food pantry.
Besides his passion for family and community, Joe's love of golf is well known at the Livingston County Country Club where he could be found on most sunny days enjoying life and the outdoors. He has the distinction of being the only person in the club's history to get a hole in one on all the par threes.
He was predeceased by his wife, Laurita, son, Christopher Griffo and brother, Carmen Griffo.
He is survived by his children, Amie (Bill) Alden of Groveland, Susan (Chris) Kelley of Pittsford, Matthew (Kathy MacCracken) Griffo of Geneseo, grandchildren, Brandy (Vin Hutnick) Alden, Kristina (Ben Rubinstein) Alden, Aaron (Laura) Kelley, Sara (Josh) Kelley-Crabtree, Rebekah (David) Herring, Elizabeth (Ryan) Brandt, 12 great grandchildren, sisters, Mickey Reynolds of Geneseo, Ann Jean Burns of FL, brother in law, Bert (Donna) Alexander of Penn Yan, many nieces, nephews and cousins.
Due to COVID-19 there will be no prior calling hours. Funeral Mass will be held on Friday, January 15, 2021 at 10 AM at St. Mary's Church in Geneseo with Father Jeff Tunnicliff officiating. Click Here for Virtual Funeral Mass. Burial will be in St. Mary's Cemetery. Details will be announced for a Celebration of Joe's Life on July 3, 2021.
In lieu of flowers, memorials may be made to V.F.W. Post # 5005, P.O. Box 221, Geneseo, NY 14454 or the Geneseo Fire Department, P.O. Box 428, Geneseo, NY 14454.