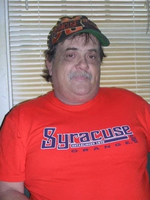 Thomas P. Foley
Thomas P. Foley, age 62, of Silver Lake, died Monday, December 14, 2020 at his residence. He was predeceased by his life partner, Donna Keenan in 2018 and brother, Peter Foley in 2014.
He is survived by his daughter, Casandra Foley of Corning, brother, John Foley of Syracuse and nephew, Ryan Foley of Syracuse.
Tom was born February 7, 1958 in Syracuse, NY the son of Peter and Mary Frate Foley. He was a 1976 East Syracuse High School graduate. Tom was a longtime employee and retired as a Health Aide for Finger Lakes Developmental Disabilities Service Office. He was a Civil Service Employees Association Union Representative for New York State.
Calling hours will be held on Monday, December 21, 2020 from 4-7 PM at the Rector-Hicks Funeral Home, 111 Main St. in Geneseo. Graveside Services will be held on Tuesday, December 22, 2020 at 10 AM at Temple Hill Cemetery in Geneseo with Deacon Shawn Irwin officiating.
In lieu of flowers, memorials may be made to the VFW Post 634, PO Box 204, York, NY 14592.