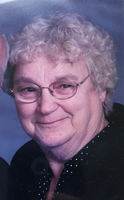 Mildred H. "Millie" Worden
Mildred H. "Millie" Worden, age 80, of York, died Friday, September 4, 2020 at Livingston County Center for Nursing and Rehabilitation in Mt. Morris, NY. She was predeceased by her brother, William Holbrook and sister, Joyce Snow.
She is survived by her husband, George R. Worden Sr., children, Marlene (Hank) Britton of Honeoye, Dawn (Tony) Ange of Piffard, Donna (Todd) Black of Pittsford, Kathy (Peter) Occhioni of Piffard, George (Michelle) Worden Jr. of Piffard, 6 grandchildren, Brad (Rachel) Macauley, Tarryn Macauley, Megan Ange, Ryan and Maxwell Black, Peter Occhioni, 5 great grandchildren, Gabe, Ruth, Oliver and Rhett Macauley, Ethan Occhioni, sisters, Florence Partridge of Groveland, JoAnne Welton of Dansville, brother in law, Don Snow of Baldwinsville, many nieces and nephews.
Mildred was born April 1, 1940 in Groveland, NY the daughter of Frederick and Treva Waggoner Holbrook. Her biggest love was her family. She was employed by General Railway Signal in Rochester, NY. Millie was an avid quilter. She was a member of the Family Motor Coach Association of Cincinnati, OH and President of the Finger Lakes Chapter.
Calling hours will be held on Tuesday, September 8, 2020 from 3-7 PM at the Rector-Hicks Funeral Home, 111 Main St. in Geneseo. Please wear a mask and practice social distancing. Graveside Services will be held on Wednesday, September 9, 2020 at 11 AM in Pleasant Valley Cemetery in York.
In lieu of flowers, memorials may be made to the York Fire Department, PO Box 409, York, NY 14592 or the York Ambulance Fund, PO Box 95, York, NY 14592.