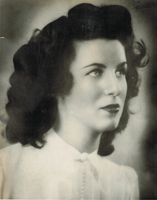 Merna R. Cohen
Merna Rae Cohen, age 95, of Geneseo, formerly of Caledonia, passed away peacefully on Saturday, December 14, 2019 at the Livingston County Center for Nursing and Rehabilitation in Mt. Morris, NY. She was predeceased by her husband, Harvey Cohen.
She is survived by her 3 sons, Dennis (Amanda Smith) Cohen of Caledonia, Jeffrey (Jane) Cohen of Avon, David Cohen of Caledonia, 4 grandchildren, Cassandra (Michael) Roberts, Cooper, Spencer and Carly Cohen, 2 great grandchildren, Lincoln and Madison Roberts.
Merna Rae was born January 12, 1924 in Ferron, UT the daughter of John Nels and Melinda Jane Barton Christensen. She loved school and was the Valedictorian of South Emery High School in Utah. After graduating High School, Merna attended Snow College and the University of Utah. She met Harvey H. Cohen at Wendover Air Field in Utah. After Harvey was released from the Air Force, they moved to Caledonia and got married on February 17, 1945 at the Spring Brook Inn. Merna was a wonderful mother and prided herself on making a wonderful home for her family. She retired as a Secretary from Cohen Law Firm in Caledonia after many years of dedicated service.
No prior calling hours. Memorial Services will be held privately at the convenience of the family.
In lieu of flowers, memorials may be made to the Livingston County Humane Society, P.O. Box 233, Avon, NY 14414.