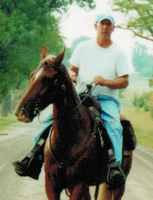 Daniel R. O'Mara
Daniel R. "Buckwheat" O'Mara, age 62, of Geneseo, passed away peacefully, Wednesday, November 20, 2019 at home on Lima Road. He was predeceased by his parents, Bob and Dottie O'Mara.
He is survived by his loving wife of 35 years, Betsy Bill O'Mara, siblings, Timothy (Debby) O'Mara of Geneseo, Molly (Roger) Smith of Geneseo, Patrick (Zak) O'Mara of Canton, NY, Eileen (Don) Doerflinger of Geneseo, Anne (Nick) Lamendola of Lima, John Michael (Laurie) O'Mara of Bloomfield,Charles (Wendy) Bryant of Scottsville, many nieces, nephews, great nieces and nephews and his feline companions.
Buckwheat was born May 30, 1957 in Rochester, NY the son of William Robert and Dorothy Boorman O'Mara. He was a 1975 graduate of Geneseo Central School where he starred in Football, Basketball and Baseball. Buck graduated from Corning Community College in 1977 where he was a member of their Baseball Team. He attended Niagara University before becoming a well-known mason for Raymond Brock Construction. He and Betsy owned and operated the Lazy O Horse Farm in Geneseo and enjoyed numerous trail riding adventures. Buckwheat will always be remembered for his sense of humor, his big heart and his love of family.
Calling hours will be held on Sunday, November 24, 2019 from 1-5 PM at the Rector-Hicks Funeral Home, 111 Main St. in Geneseo. His Funeral Mass will be held on Monday, November 25, 2019 at 10 AM at St. Mary's Church, 4 Avon Rd. in Geneseo with Father Bernard Dan officiating. Interment will be in St. Mary's Cemetery in Geneseo.
In lieu of flowers, memorials may be made to Teresa House, 21 Highland Rd., Geneseo, NY 14454.