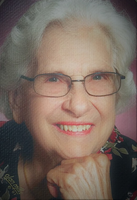 Helen T. Griswold
Helen T. Griswold went to be with her Lord and Savior Jesus on November 15, 2019 at age 100 years. She was predeceased by her parents, her husband, Kenneth E. Griswold, her brothers, Steve and John Tkaczyk, sisters, Anne Peruta and Jane Schroedl.
She is survived by her son, Rev. Dr. Keith E. Griswold and his wife, Dr. Kathy King-Griswold of Rochester, her beloved grandchildren, Kelsey Griswold of Washington, D.C. and Kyle Griswold of Rochester, her brother, Donald (Arlene) Tasick of Rochester, several nieces and nephews.
Helen was born October 9, 1919 in Olean, NY the daughter George and Mary Sendun Tkaczyk. She was raised in Olean and relocated to Rochester, NY. Helen had always been an industrious woman, rarely sitting still; she was employed by Eastman Kodak; the Hickok Company; but was best known for being a seamstress making custom drapes. Helen was an active member of the Immanuel Church of the Nazarene and then later Aldersgate United Methodist Church. Her passion was doing crafts with children in Vacation Bible School as well as knitting and crocheting for church projects.
There will be a worship service to celebrate her life on Thursday, November 21, 2019 at 3pm at the Aldersgate United Methodist Church in Rochester. In lieu of flowers, the family would ask that you donate to the Aldersgate United Methodist Church, 4115 Dewey Ave., Rochester, NY 14616.