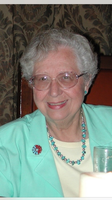 Jane Ann Reid
Jane Ann Kindschi Reid, 85, passed away on September 8, 2019 in Peoria, AZ. She was born on April 6, 1934 in Platteville, WI to Laurence and Hazel Kindschi.
Jane grew up in Platteville and graduated from Platteville High as valedictorian in 1952.
She went on to graduate from the University of Wisconsin with a major in English and minors in French, Spanish, and Speech, graduating Summa Cum Laude. She taught high school language for many years.
Jane married Arch Reid in 1957. They were happily married for 40 years before Arch's passing in 1997. Jane was a member of Central Presbyterian Church in Geneseo, serving there as president of the Women's Association. She was also an active member of the Garden Club, Stitchery, many bridge groups and countless organizations that helped her community.
Jane had a great love for her church, the Geneseo Central Presbyterian and, most of all, her cherished friends and family.
Jane is survived by her son Scott Reid of Santa Fe, NM, her daughter Jillian (Anthony) Costantino and grandchildren Nicole, Camille and Christian Costantino of Phoenix, AZ.
A Memorial Service will be held on Saturday, October 5, 2019 at 11 AM at the Central Presbyterian Church in Geneseo with Rev. Dr. Nancy Lowmaster officiating. Interment will be in the Central Presbyterian Church Memorial Garden next to her beloved Arch.
In lieu of flowers the family requests memorial donations be made to the Central Presbyterian Church (Music Program), 31 Center St., Geneseo, NY 14454 or to the Alzheimer's Association, 435 East Henrietta Rd., Rochester, NY 14620.