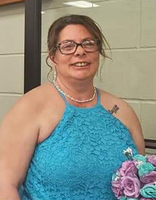 Concetta Ann Mensinger
Concetta Ann Mensinger, age 50, of Mt. Morris, died Tuesday, September 3, 2019 at her residence. She was predeceased by her parents, John and Congetta Welton and her daughter, Sue Lynn Cole.
She is survived by her husband, Mark Mensinger Sr., children, Mary Cole of Mt. Morris, Harold Cole III of Watertown, Brenda (Vincent) Cicero of Mt. Morris, Jennifer (Herbert) Parsons of Dansville, Mark (Gwen) Mensinger Jr. of Perry, Mark RJ Mensinger of Mt. Morris, 15 grandchildren, 8 great grandchildren, brother, Joseph (Donna) Welton of Dalton, sister, Rose Welton of Shortsville, many nieces and nephews.
Concetta was born August 22, 1969 in Rochester, NY the daughter of John Barney and Congetta Ann Nucioloa Welton. She was a Bus Driver for The ARC of Liv-Wyoming in Mt. Morris. Concetta loved to have the house filled with family and friends, especially during the holidays.
Calling hours will be held on Monday, September 9, 2019 from 4-7 PM at Rector-Hicks Funeral Home, 111 Main St. in Geneseo where Memorial Services will follow visitation at 7 PM with Pastor David Ritz officiating. A Celebration of Life will be held on Monday, September 9, 2019 at 8 PM at the Mt. Morris Lanes, 9 Erie St. in Mt. Morris.
In lieu of flowers, memorials may be made to the ARC of Livingston-Wyoming, 18 Main St., Mt. Morris, NY 14510.