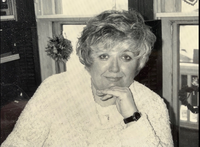 M. Sandra Christiano
M. Sandra Christiano, age 73, of Myrtle Beach, SC, formerly of Leicester, died Saturday, August 3, 2019 in Albany, NY.
She is survived by her sisters, Deanna (Nelson) Leone of Le Roy, Jackie (Tom) Moran of Lockport, several nieces, nephews, many cousins and friends.
Sandra was born January 24, 1946 in Dansville, NY the daughter of the late Vincent and Sandy Wood Christiano. After she retired she moved to Murells Inlet just south of Myrtle Beach, SC where she enjoyed spending time at the beach, playing golf and following OCEARCH, a shark data tracking system for scientists on the internet.
Calling hours will be held on Sunday, August 11, 2019 from 1-3 PM at the Rector-Hicks Funeral Home, 111 Main St. in Geneseo. Graveside Services will be held on Monday, August 12, 2019 at 11 AM at St. Mary's Cemetery in Geneseo with Deacon George Spezzano officiating. Interment will be in St. Mary's Cemetery, Geneseo.
In lieu of flowers, memorials may be made to the Teresa House, 21 Highland Rd., Geneseo, NY 14454.