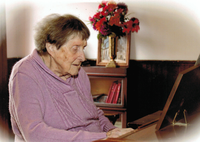 Eleanor R. Lennox
Eleanor R. Lennox, age 94, of Groveland, died Thursday, July 18, 2019 at her residence. She was predeceased by her husband, Donald, daughter, Sharon and son in law, Edwin Carney.
She is survived by her children, Larry (Pam) Lennox of Nunda, Richard (Karen) Lennox of Binghamton, Karl (Margaret) Lennox of Dansville, Linda Carney of Dansville, Nancy (Kelley) Harper of Geneseo, 8 grandchildren, 10 great grandchildren, 1 great great grandson siblings, John Keymel of Plattsburg, NY, Roger (Jessie) Keymel of Walworth, NY, Geraldine Witmire of Ontario, Jeanette Mills of Webster, Martha Fishhut of Geneseo, many nieces and nephews.
Eleanor was born November 4, 1924 in Walworth, NY the daughter of John and Edith Millen Keymel. She retired from Champion Products in Geneseo after many years. Eleanor was a longtime member of Groveland Federated Parish where she played the organ.
Calling hours will be held on Tuesday, July 23, 2019 from 11 AM - 1 PM at the Groveland Federated Parish where her Funeral will be held following visitation at 1 PM with Dorothy Hotchkiss officiating. Burial will be in Lakeview Cemetery in Groveland.
In lieu of flowers, memorials may be made to Groveland Federated Parish, 6616 Groveland Hill Rd., Groveland, NY 14462 or Livingston County Hospice Fund, 2 Murray Hill Dr., Mt. Morris, NY 14510.