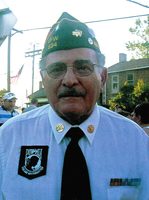 Carmen J. Gallo Sr.
Carmen J. Gallo, Sr., age 86, of Cuylerville, died Friday, July 5, 2019 at the NYS Veterans Home in Batavia, NY. He was predeceased by his grandson, Frankie Dollinger and daughter in law, Jacqueline Gallo.
He is survived by his wife of 65 years, Sylvia Gallo, children, Mary Jo (Mike) Burger of GA, John Gallo of Alden, NY, Jackie (Mike) Cellini of Webster, Carmen (Mara) Gallo Jr. of Retsof, Marcy Carson of Mt. Morris, many grandchildren and great grandchildren, sister, Diane Bissisi of Manlius, NY, many nieces and nephews.
Carmen was born November 27, 1932 in Syracuse, NY the son of John and Lena Bissisi Gallo. He was a US Korean War Air Force Veteran. Carmen graduated from Rochester Institute of Technology with a Bachelor's Degree in Accounting. He retired from Hallman's Chevrolet in Rochester where he was a body repair technician. Carmen was a member of the York-Leicester VFW Post 634, the A-On-Do-Wa-Nuh Sportsman Club in Cuylerville and St. Luke's Evangelist Parish.
Calling hours will be held on Monday, July 8, 2019 from 4-7 PM at the Rector-Hicks Funeral Home, 111 Main St. in Geneseo. A Graveside Service with Military Honors will be held on Tuesday, July 9, 2019 at 10 AM at St. Mary's Cemetery in Geneseo with Deacon George Spezzano officiating.
In lieu of flowers, memorials may be made to VFW Post 634, PO Box 101, York, NY 14592.