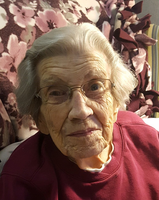 Evelyn M. Young
Evelyn M. Young, age 97, of Geneseo, died Thursday, June 6, 2019 at the Hurlbut Nursing Home in Rochester, NY. She was predeceased by her husband, William Young in 2000, son, Robert Barbour in 1985, son in law, Charles Weaver Sr. in 2016, brother, James McCaughey, and sisters, Martha Campbell and Clara DeLone.
She is survived by her daughter, Mary Weaver of Avon, grandchildren, Dr. Coreena Weaver of Liverpool, Charles (Debbie) Weaver Jr. of Canandaigua, Wendy Weaver of Lima, great granddaughters, Tara (Oliver) Cacovski, Kasey Wesley and Molly Weaver, several nieces and nephews.
Evelyn was born June 24, 1921 in Geneseo, NY the daughter of James and Mary Bell McCaughey. She retired from the Livingston County Skilled Nursing Facility in Geneseo. Evelyn was a member of the Rebecca Lodge in Avon and the Sewing Group on Wednesdays at the United Methodist Church in Geneseo. She was an avid reader and enjoyed life to its fullest.
Calling hours will be held on Sunday, June 9, 2019 from 1-4 PM at the Rector-Hicks Funeral Home, 111 Main St. in Geneseo where Funeral Services will be held on Monday, June 10, 2019 at 11 AM with Pastor Pete Maclaughian officiating. Burial will be in Temple Hill Cemetery in Geneseo.
In lieu of flowers, memorials may be made to the Teresa House, 21 Highland Rd., Geneseo, NY 14454 or the Geneseo Ambulance Fund, PO Box 428, Geneseo, NY 14454.