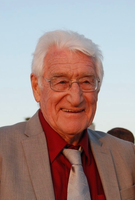 Dietmar P. Schenitzki
Dietmar P. Schenitzki, PhD, age 88, of Geneseo, died peacefully, Wednesday, March 27, 2019 at his residence.
He is survived by his loving wife, Christa Petzel Schenitzki , children, Karen (Ammar) Hayani of Burr Ridge, IL, Annette (Walter) Ainsworth of Westport, MA, Peter (Gena) Schenitzki of Irvine, CA, grandchildren, Kinan Hayani, Laila Hayani, Zayd (Samar) Hayani, Trent (Lindsay) Ainsworth, Corinne (Patric) Gibbons, Alexandra Schenitzki, Maxwell Schenitzki, brother, Horst (Sigrid) Schenitzki and nephew, Ivan Schenitzki of Moersch, Germany.
Dietmar was born September 9, 1930 in Wiersbiny, Germany the son of Paul and Ida Jurgeit Schenitzki. He taught for many years as a Psychology Professor at SUNY Geneseo. Dietmar loved to travel, was adventurous, and loved his family above all.
No prior calling hours. Funeral Services will be held privately at the convenience of the family. Private Burial will be in Temple Hill Cemetery in Geneseo.
The family gratefully requests the courtesy of no flowers.