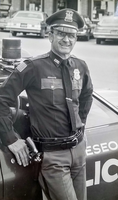 William A. Roodenburg
William Arend Roodenburg passed away Thursday, November 29th, 2018 at the age of 89. He was fierce, funny, loving, sometimes scary, and devoted to the things he believed in.
Bill was born to Ruth and Charlie Roodenburg at Highland Hospital in Rochester, NY on May 13, 1929. He grew up in Geneseo. At age 18, at the end of World War II, he enlisted in the Army, and was stationed in Alaska as a military policeman. Later he served as a New York State Trooper, a deputy in the Livingston County Sheriff's Department and Chief of Police for the Village of Geneseo for 20 years. Bill was a Geneseo school bus driver for over fifty years. He responded to countless fires and ambulance calls as a devoted member for over 35 years and Past Chief of the Geneseo Fire Department. He also volunteered with the Salvation Army and worked for WJR construction and as a self-employed handyman. He could fix anything that was broken. Bill loved teenagers, country music, martinis, sun bathing, boats, nudist resorts, Broadway musicals, local theater, skiing, reading the newspaper, good food and good honest work.
Bill was predeceased by his wonderful wife, Eleanor "Lenny" Roodenburg in 1997.
He is survived by his son, Billy and his wife Glenda of New Smyrna Beach, FL; daughter, Jane and her husband David of East Greenbush, NY; grandsons Duffy, Dan, Jon and his wife Meg; great grandson, Teddy; best friend Mary; a variety of nieces, nephews, cousins, and countless friends. Bill loved his family, even though we drove him crazy.
Calling hours will be held on Thursday, December 20, 2018 from 4-7 PM at the Rector-Hicks Funeral Home, 111 Main St. in Geneseo. Memorial Services will be held on Friday, December 21, 2018 at 11 AM at The Geneseo Riviera, 4 Center St. in Geneseo. Interment will be in Temple Hill Cemetery in Geneseo.
In lieu of flowers, memorials may be made to the Geneseo Fire Department, P.O. Box 428, Geneseo, NY 14454 or V.F.W. Post # 5005, P.O. Box 221, Geneseo, NY 14454.