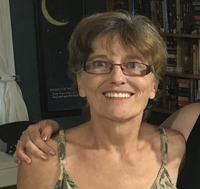 Donna Lee Keenan
Donna Lee Keenan, age 60, of Silver Lake, died Wednesday, May 16, 2018 at Strong Memorial Hospital in Rochester, NY. She was predeceased by her parents Paul and Minnie Weeks and sister, Edith Martin.
She is survived by her life partner Tom Foley of Silver Lake, son, Scott (Hollie MacIntyre) Weeks of Pavilion, brother, John (Antonia) Weeks of Durham, NC, nieces, Hillary, Katie, Heather and Jennifer.
Donna was born September 29, 1957 in Warsaw, NY the daughter of Paul and Minnie Hagan Weeks. She was employed as a health aide by Finger Lakes DDSO in Perry, NY. Donna was an avid reader.
Friends may call Friday, May 18, 2018 from 3-7 pm at the Rector-Hicks Funeral Home, 111 Main St. in Geneseo.. Graveside Services will be held 10:00 am on Saturday, May 19, 2018 at Temple Hill Cemetery in Geneseo.
Memorials may be made to VFW Post 634, Box 204, York, NY 14592.
.