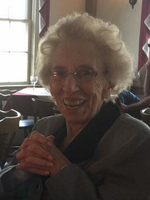 Margaret M. McCaughey
Margaret M. McCaughey, age 97, of Geneseo, died Tuesday, September 19, 2017 at Strong Memorial Hospital in Rochester, NY. She was predeceased by her husband, Douglas McCaughey.
She is survived by her daughter, Patricia Passalacqua of Dalton, grandsons, Scott (Laurie Bownds) Scaccia of Geneseo, Shane Scaccia of Rochester, DJ Passalacqua of Geneva, great grandson, Seth Scaccia of Leicester, several nieces, nephews, great nieces and nephews.
Margaret was born April 11, 1920 in Geneseo, NY the daughter of Anthony and Carrie Aprile MerLino. She worked for Livingston County for 52 years retiring as County Clerk in 1994. Margaret was the first women elected to office in Livingston County. She was a member of the Geneseo Rotary Club and a longtime member of St. Luke's Parish.
Calling hours will be held on Monday, September 25, 2017 from 4-7 PM at the Rector-Hicks Funeral Home, 111 Main St. in Geneseo. Her Funeral Mass will be held on Tuesday, September 26, 2017 at 10 AM at St. Mary's Church, 4 Avon Rd. in Geneseo with Father Edward Dillon officiating. Burial will be in St. Mary's Cemetery in Geneseo.
In lieu of flowers, memorials may be made to the St. Luke's Scholarship Fund, 13 North St., Geneseo, NY 14454 or the Wilmont Cancer Center, 601 Elmwood Ave., Rochester, NY 14642.