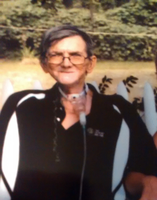 Harold F. "Joe" Freese
Harold F. "Joe" Freese Jr., age 63, of Woodsville Rd. in Dansville, formerly of Geneseo, died Thursday, July 27, 2017 at Rochester General Hospital in Rochester, NY.
He is survived by his wife, Terry Rhoads Freese, children, Jamie (Laura) Freese of Lima, Tammy (Cliff) Yeoman of Wayland, Jason (Jenny) Proctor of Perry, grandchildren, Samantha and Amber Yeoman, Jordan and Jessie Freese, sister, Connie (Dennis) Popple of Denver, NC, brother, Randy (Sharryl) Freese of Geneseo, aunt, Barb Freese of East Avon, uncles, Chuck (Kay) Freese of Batavia, Bob (Debbie) Jacobs of West Sparta, several nieces, nephews and cousins.
Joe was born September 18, 1953 in Warsaw, NY the son of Harold F. and Mary E. Jacobs Freese Sr. He was a graduate of Geneseo Central School class of 1971. Joey was a general contractor for JD&D Construction in Dansville. He was a member of the Sons of American Legion Post in Conesus. Joey was an avid golfer and Buffalo Bills Fan.
Calling hours will be held on Monday, July 31, 2017 from 4-7 PM at the Rector-Hicks Funeral Home, 111 Main St. in Geneseo. Graveside Services will be held on Tuesday August 1, 2017 at 11 AM at Mt. Pleasant Cemetery in Geneseo.
In lieu of flowers, memorials may be made to the family.