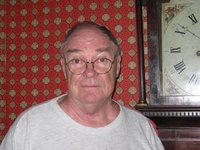 Dr. Bruce F. Godsave
Dr. Bruce F. Godsave, age 74, of Stuyvesant Manor in Geneseo, died Monday, April 10, 2017 at Strong Memorial Hospital in Rochester, NY. He was predeceased by his sister, JoAnne King.
He is survived by his wife, Carol Thomas Godsave, sons, Bayard (Sarah) Godsave of WI, William (Jamie Clymo) Godsave of Dansville, grandchildren, Inga and Harriet Godsave, Connor and Evan Godsave and their mother, Rachel Godsave of Livonia Center, brothers in law, Cliff King of Greece, Gary Thomas of Sodus, several nieces, nephews and cousins.
Bruce was born April 2, 1943 in Rochester, NY the son of Fredrick and Cecilia Mahoney Godsave. Dr. Godsave retired from the School of Education Department at SUNY Geneseo. He was a member of the Geneseo Fire and Ambulance Department, the Geneseo Rotary Club and a longtime member of St. Luke's Parish serving as an Acolyte.
Calling hours will be held Friday, May 12, 2017 from 4-7 PM at the Rector-Hicks Funeral Home, 111 Main St. in Geneseo. His Funeral Mass will be held on Saturday, May 13, 2017 at 10 AM at St. Mary's Church, 4 Avon Rd. in Geneseo. Interment will be in St. Mary's Cemetery in Geneseo.
In lieu of flowers, memorials may be made to the Geneseo Rotary Club, PO Box 216, Geneseo, NY 14454 or St. Luke's Parish, 13 North St., Geneseo, NY 14454.