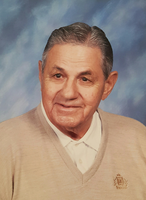 Alex J. Cichelli
Alex J. Cichell, age 96, of Retsof, died Monday April 10, 2017 at the Highlands at Brighton.
He was predeceased by his loving wife of 54 years, Carmel Cichelli, sisters, Rita, Nellie, Dolly and his brother, Louis.
He is survived by his sons, Dennis (Deborah) Cichelli of Rochester, David Cichelli of Leicester, grandson, Michael Cichelli of Rochester, sisters, Nina (Joseph) La George of Mt. Morris, Lucy Lo Verde of Mt. Morris, brothers, Leo (Josephine) Cichelli Sr. of Cuylerville, John (Anne) Cichelli of Retsof, many nieces and nephews.
Alex was born October 25, 1920 in Retsof, NY the son of Augustine and Philomena DeFebo Cichelli. He was a US Navy Veteran of WWII who served aboard the U.S.S. Salt Lake City in the Pacific. Alex retired after many years as the Plant Manager from the International Salt Company. He was a member of the American Legion and VFW Post 643 both in York for over 70 years. Alex was a lifelong member of St. Lucy's Church in Retsof.
Calling hours will be held on Monday, April 17, 2017 from 4-7 PM at the Rector-Hicks Funeral Home, 111 Main St. in Geneseo. His Funeral Mass will be held Tuesday, April 18, 2017 at 10 AM at St. Lucy's Church in Retsof with Father Bernard Dan officiating. Burial with Military Honors will be in St. Mary's Cemetery in Geneseo.
In lieu of flowers, memorials may be made to St. Lucy's Church, 13 North St., Geneseo, NY 14454.