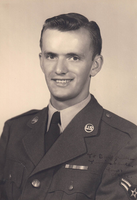 C. Richard Campfield Jr.
C. Richard Campfield, Jr., age 92, of Geneseo, died Thursday, December 8, 2022 at the Livingston County Center for Nursing and Rehabilitation in Mt. Morris, NY. He was predeceased buy his wife, Diane Campfield and many siblings.
He is survived by his loving daughter, Anne Campfield of Geneseo, sisters, Ruth Williams of FL and Emily Virostko of CA, many nieces, nephews, friends and caregivers.
Richard was born May 8, 1930 in Mt. Morris, NY the son of Clarence Richard and Lydia Handy Campfield Sr. He was a US Air Force Korean War Veteran. Richard and his wife Diane managed the New Family Movie Theater in Mt. Morris for many years. He retired from the Bells Grocery Store in Geneseo.
No prior calling hours. His Funeral Mass will be held on Thursday, December 15, 2022 at 10 AM at St. Mary's Church, 4 Avon Rd. in Geneseo with Father Sylvester Bioh officiating. Burial with military honors will be in St. Mary's Cemetery in Geneseo.
In lieu of flowers, memorials may be made to Livingston County Hospice Fund, 2 Murray Hill Dr., Mt. Morris, NY 14510.