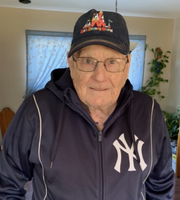 Clark E. Sattora
Clark E. Sattora, age 84, of Mt. Morris formerly of Cuylerville, died Sunday October 30, 2022 at Noyes Memorial Hospital in Dansville after a brief illness.
He was predeceased by his brother, Harold Sattora, sister- in-law, Alice Ann Sattora Beachel, brother-in-law, Charles Burch, niece, Lori Bartram and nephew, Richard Sattora.
Clark is survived by his daughter, Jennifer (John) Cunningham Jr. of Retsof, step daughters, Lora (Buddy) Barham of Franklin, NC, Sheryl (James) Mays of Forestville, NY , Lynn (Steve Ladley) Marquart of Brighton, grandchildren, Nicholas, Ty and Devin Cunningham, Mathew McDonald, Michael (Aislinn) McDonald, Benjamin Turner and Ryan Ladley, sister, Joyce Burch of Retsof, many nieces and nephews.
Clark was born February 4, 1938 in Warsaw, NY the son of Gordon and Isabel Clark Sattora where he resided in Cuylerville and Leicester for many years. He retired from General Motors in Rochester after many dedicated years. He enjoyed Yankees baseball, attending his grandchildren's many extracurricular activities and playing cards.
Calling hours will be held on Wednesday, November 2, 2022 from 4-7 PM at the Rector-Hicks Funeral Home, 111 Main St. in Geneseo. Graveside Services with Military Honors will be held on Thursday, November 3, 2022 at 11 AM in Leicester Cemetery.
In lieu of flowers, memorials may be made to the Livingston County Office for the Aging, 3 Murray Hill Dr. Mt. Morris, NY 14510.