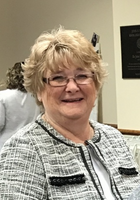 Donna K. Holbrook
Donna K. Holbrook, age 73, of Piffard, passed away Saturday, October 1, 2022 at her residence. She was predeceased by her son, Bobby Holbrook Jr. and brothers, Charles and Roland Flickner.
She is survived by her husband, Bob, daughter, Stacey (Carmine) DioGuardi of Lima, grandson, Cory DioGuardi of Lima, siblings, Daniel Flickner Jr. of Wayland, Larry (Ann) Flickner of Dansville, Diane (Charles) Hunt of Wayland, Dawn (Jerry Finn) Ames of Wayland, Gloria (Gary) Latoy of Spencerport, Sandy (Gary) Beardsley of Dansville, Jim McCarty of Avon, Mike (Toni) McCarty of NC, sisters in law, Ella Flickner of York, Carole Flickner of Lakeville, many nieces, nephews, aunts and many friends.
Donna was born November 28, 1948 in Dansville, NY the daughter of Daniel and Maude Hults Flickner Sr. Donna and Bob were married on September 18, 1971 in Dansville and they just celebrated their 51 year anniversary. She retired from Gunlocke in Wayland as a Customer Service Representative. Donna enjoyed crafting and crocheting. She also enjoyed organizing parties for friends and especially her family.
Calling hours will be held on Wednesday, October 5, 2022 from 4-7 PM at the Rector-Hicks Funeral Home, 111 Main St. in Geneseo where her Funeral Services will be held on Thursday, October 6, 2022 at 10 AM with Larry Flickner Jr. officiating. Burial will be in Temple Hill Cemetery in Geneseo.
In lieu of flowers, memorials may be made to the Ann & Carl Myers Cancer Center, 111 Clara Barton St., Dansville, NY 14437.