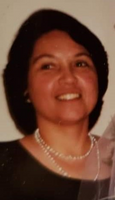 Betsyann M. Ferrero
Obituary of Betsy Maniscalco Ferrero
Daughter, Wife, Mother and Grandmother
Betsyann Maniscalco Ferrero, age 70, of Geneseo, after a long battle with cancer died Saturday, July 16, 2022 at Highland Hospital in Rochester, NY surrounded by her family.
Betsy was born to James and Anna Cicero Maniscalco on June 27, 1952 in Rochester, NY. She graduated from Geneseo Central School and married her high school sweetheart Joseph P. Ferrero in 1970.
Betsy was predeceased by her loving parents, James and Anna Cicero Maniscalco, father in law, Joseph L. Ferrero, mother in law, Joahn Coffey Ferrero and brother in law, John "Jay" Ferrero, many aunts, uncles and cousins.
Betsy is survived by her husband of almost 52 years, Joseph "Guy" Ferrero, daughter, Joahn (Todd) Cucchiara, son, Joseph (Heather) Ferrero, granddaughters, Regina And Gianna Cucchiara, Anna and Jamie Ferrero all of Geneseo, sister in law, Sandi (Paul) Zimmerman of OR, brother in law, Patrick Ferrero of OR, aunt, Rosemary Cicero of Livonia, many cousins and friends.
People have known and loved Betsy as a hairdresser, dental assistant, Curves fitness leader, Board of Elections Inspector, church school teacher, a greeter and lifelong member of St. Mary's church in Geneseo. Most importantly, Betsy loved her involvement with her children and grandchildren's activities throughout the years.
Calling hours will be held on Tuesday, July 19, 2022 from 1-7 PM at the Rector-Hicks Funeral Home, 111 Main St. in Geneseo. Her Funeral Mass will be held on Wednesday, July 20, 2022 at 9:30 AM at St. Mary's Church in Geneseo with Father Bernard Dan officiating. (CLICK HER FOR VIRTUAL SERVICE) Burial will be in St. Mary's Cemetery in Geneseo.
In lieu of flowers, memorials may be made to Charity of one's choice or Masses for the Repose of her Soul at St. Mary's Church.