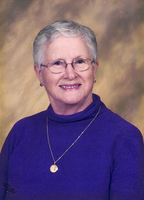 Patricia M. Stewart
Patricia M. Stewart, age 87, of York, died Tuesday, June 21, 2022 at the Livingston County Center for Nursing and Rehabilitation in Mt. Morris, NY. She was predeceased by her husband, Roy Stewart, sister, Mary Louise Mahoney, brothers, Chris (Carol) Mahoney and Robert (Barbara) Mahoney.
She is survived by her children, Lisa (Roger Stern) Stewart of Fairfax, VA, Jay (Tonia) Stewart of Alexandria Bay, Ned (Kimberly) Stewart of Forest Lake, MN, grandchildren, Nicholas Stern, Katherine Stewart, Kaylee and Roy Stewart, several nieces and nephews.
Patricia was born March 3, 1935 in Warsaw, NY the daughter of Daniel Carlton and Velma Winter Mahoney. Pat was a wonderful homemaker and a longtime member of St. Lucy's Church in Retsof.
Calling hours will be held on Friday, June 24, 2022 from 4-7 PM at the Rector-Hicks Funeral Home, 111 Main St. in Geneseo. Her Funeral Mass will be held on Saturday, June 25, 2022 at 9:30 AM at St. Lucy's Church in Retsof. Burial will be in Mt. Pleasant Cemetery in Fowlerville.
In lieu of flowers, memorials may be made to the Livingston County Humane Society, P.O. Box 233, Avon, NY 14414.