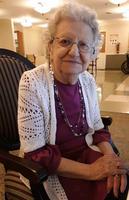 Josephine M. Santacroce
Josephine M. Santacroce, age 87, of Greigsville, died Tuesday, June 14, 2022 at Strong Memorial Hospital in Rochester, NY. She was predeceased by her husband, Richard, son, Robert Santacroce, brother, Joseph Macaluso and sister, Frances "Chickie" Pfuntner.
She is survived by her children, Lynn Ann (Stephen) Smith of LeRoy, Rick (Lori) Santacroce of Nunda, sisters, Rita Levey of Mt. Morris, Nanci Paddock of FL, sisters in law, Carolyn Macaluso of Groveland, Barbara Indivino of Rochester, brothers in law, Walt Pfuntner of Dansville, Lt. Colonel Ret. Anthony Santacroce of TX, Rex Miller of LeRoy, many nieces and nephews.
Josephine was born May 24, 1935 in Mt. Morris, NY the daughter of Joseph and Sarah Leone Macaluso. She was a graduate of Mt. Morris Central School. After graduation she worked at the canning factory in Mt. Morris and then became a waitress at the Genesee River Hotel in Mt. Morris, the National Hotel in Cuylerville and retired from the Big Tree Inn in Geneseo. Jose enjoyed marching and performing with the Drum and Bugle Corps.
Calling hours will be held on Tuesday, June 21, 2022 from 4-7 PM at the Rector-Hicks Funeral Home, 111 Main St. in Geneseo. Her Funeral Mass will be held on Wednesday, June 22, 2022 at 9:30 AM at St. Lucy's Church in Retsof. Burial will be in St. Mary's Cemetery in Geneseo.
In lieu of flowers, memorials may be made to VFW Post 547, 3 Elm St., Mt. Morris, NY 14510.