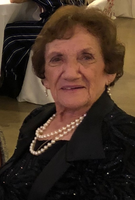 Minnie D. Yamonaco
Minnie D. Yamonaco, age 95, of Leicester, died Sunday, June 12, 2022 at her residence. She was predeceased by her husband, Anthony, son, James Yamonaco and brother, Francis Valente.
She is survived by her children, Barbara (Philip) Noble of Venice, FL, Richard (Kristie) Yamonaco of North Port, FL, Toni Teresa of Leicester, daughter in law, Debbie Yamonaco of Leicester, 7 grandchildren, 14 great grandchildren, 2 great great grandchildren, sisters, Mary Piccirillo of Niagara Falls, Florence Archie of Lewiston, many nieces and nephews.
Minnie was born June 14, 1926 in Retsof, NY the daughter of Ignazio and Rita Cichelli Valente. She retired from SUNY Geneseo as a Supervisor in Food Service. Minnie was a longtime member of the Ladies Auxiliary of the American Legion.
Calling hours will be held on Monday, June 20, 2022 from 4-7 PM at the Rector-Hicks Funeral Home, 111 Main St. in Geneseo where Funeral Services will be held on Tuesday, June 21, 2022 at 11 AM. Burial will be in Leicester Cemetery.
In lieu of flowers, memorials may be made to the Teresa House, 21 Highland Rd., Geneseo, NY 14454.