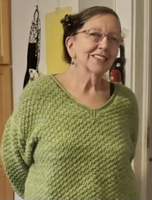 Letitia J. Boiani
Letitia J. Rosenthal Boiani, age 73, of Geneseo, died Thursday, April 14, 2022 at her residence. She was predeceased by her parents, Augustus and Mary Rosenthal, her infant daughter, Amanda Boiani, and brothers, John and Robert Rosenthal.
She is survived by her husband, James Boiani, son, James (Alyssa) Boiani of McLean, VA, grandchildren, Amanda, Elisa, Levi and Maxwell Boiani, siblings, Virginia (Ron) Renaud of MI, Margaret (Sarah) Rosenthal of ID, Richard (Suzanne) Rosenthal of IL, Augustus (Tina) Rosenthal of IL, Mary Rosenthal of IL, many nieces, nephews, cousins and her former daughter in law, Katherine Bailey of VA.
Letitia was born May 25, 1948 in Chicago, IL the daughter of Augustus and Mary Aylward Rosenthal Jr. She was a graduate of St. Thomas Apostle High School in Chicago, IL. Letitia earned her Bachelor's Degree in Management Science from SUNY Geneseo. She retired from Livingston County as the Director of the Center for Dispute Settlement. Letitia was an active member of St. Mary's Church in Geneseo where she taught Church School for over 40 years
Calling hours will be held on Wednesday, April 20, 2022 from 4-7 PM at the Rector-Hicks Funeral Home, 111 Main St. in Geneseo. Her Funeral Mass will be held on Thursday, April 21, 2022 at 9:30 AM at St. Mary's Church, 4 Avon Rd. in Geneseo with Father Bernard Dan officiating. (CLICK HERE FOR VIRTUAL SERVICE) Interment will be in St. Columba Cemetery in Middletown, RI.
In lieu of flowers, memorials may be made Leukemia & Lymphoma Society, PO Box 22324, New York, NY 10087.