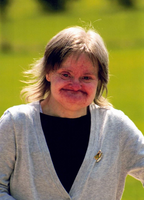 Sally "Prudi" Pearson
Sally P. "Prudi" Pearson, age 64, of Geneseo, died Thursday, April 7, 2022 at her residence at the Grammas IRA. She was predeceased by her father, Major General Jeremiah "Jed" Pearson III.
She is survived by her husband, James Komonczi whom was her longtime partner and best friend, mother, Sally (Gene) Holloway of Annapolis, MD, siblings, Jed Pearson of Malibu, CA, Beth Holloway of Warton, NJ, Carrie (Jared) Goul of Leonardtown, MD, nieces and nephews, Will Pearson, Maddie, Morgan and Evan Goul, her housemates and friends at the Grammas IRA in Geneseo.
Prudi was born November 8, 1957 in Atlanta, GA the daughter of Major General Jeremiah "Jed" Pearson III and Sally Dusbabek Holloway. Prudi and her mother Sally traveled by train all over Europe when she was younger. Her devotion to her husband and best friend, James was unwavering. Prudi and James were well known in the Geneseo community and could be seen riding around town on their lawn mower with wagon in tow.
Calling hours will be held on Wednesday, April 20, 2022 from 11 AM - 1 PM at the Rector-Hicks Funeral Home, 111 Main St. in Geneseo where Memorial Services will be held at 1 PM. Interment will be in Temple Hill Cemetery in Geneseo.
In lieu of flowers, memorials may be made to the ARC GLOW, 18 Main St., Mt. Morris, NY 14510.