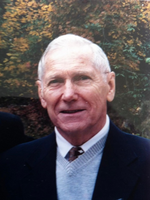 Arlie A. Bennett Jr.
Arlie A. Bennett, Jr., age 98, of Geneseo, died Wednesday, January 5, 2022 at Highland Hospital in Rochester, NY. He was predeceased by his wife, Helen Bennett and sister, Sylvia Zintel.
He is survived by his children, Arlie (Susan) Bennett III of Geneseo, Robert (Nicole) Bennett of Henrietta, Bonnie (Edward) Monoski of FL, Bruce (Jean) Bennett of Geneseo, John (Catherine) Bennett of Geneseo, 10 grandchildren, 12 great grandchildren, sister, Pat Zingaro of VA, brother, Thomas Bennett of Lima, several nieces and nephews.
Arlie was born November 25, 1923 in Hornell, NY the son of Arlie Arnold and Eve Pearl Witter Bennett Sr. He was a World War II US Army Air Force Veteran. Arlie retired as the Office Manager for the Cipriano Brothers Construction Company located in Mt. Morris. He was a lifelong member of the Geneseo United Methodist Church. Arlie was a Scout Leader and was awarded the Silver Beaver Award, the highest honor bestowed on a volunteer for the Boy Scouts of America.
Calling hours will be held on Sunday, January 9, 2022 from 1-4 PM at the Rector-Hicks Funeral Home, 111 Main St. in Geneseo. His Memorial Service will be held on Monday, January 10, 2022 at 11 AM at the Geneseo United Methodist Church, 4520 Genesee St. (Route 63) in Geneseo with Rev. Beth Malone officiating. Interment with Military Honors will be in Leicester Cemetery.
In lieu of flowers, memorials may be made to the Teresa House, 21 Highland Rd., Geneseo, NY 14454 or the Geneseo Boy Scout Troop #4070, 31 Center St., Geneseo, NY 14454.