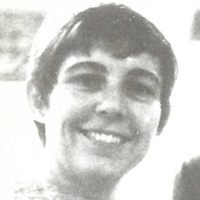 G. Jean Smith
Gertrude Jean Smith passed away on Thursday December 9, 2021 after a long illness. G Jean Smith, as she was known professionally, by her family and friends, was born on September 19, 1930, in Vermillion, South Dakota to Edwin and Gertrude Shaw, the first child of three. She is preceded in death by her parents, sister Mary Jane and brother William. She is survived by her husband of 52 years, Armand Smith, her sons Douglas and Eric, and her grandchildren Eric, Evan, Eva, Liam, Nathan, Brendon and Matthew. She is also survived by a large extended family, with many nieces and nephews.
Jean graduated from the Eastman School of Music at the University of Rochester in Rochester, New York with a degree in concert cello. She returned to Vermillion, South Dakota and attended the University of South Dakota. Jean obtained her master's degree in education at the University of South Dakota. Jean obtained her PHD in Musicology at Catholic University.
After graduation, she was employed as a music teacher through the Virginia public school system. For approximately 4 years, Jean was employed as a music professor at Madison College (now known as James Madison University) located in Harrisburg, Virginia. This is where she met her husband, Armand.
Following her college teaching career, Jean was extremely active participating in various string music publications and organizations. For several years, Jean was the editor of the American String Teachers Association (ASTA) journal. She also contributed articles on music theory, and practice.
Likewise, Jean was president of the National School Orchestra Association (NSOA) and contributed to NSOA's publications with numerous articles for several years.
An accomplished concert cello player, Jean continued to teach private students for decades following her retirement as a college professor.
Jean was an avid tennis player throughout her life. While living in Groveland, New York, Jean enjoyed playing on the weekends with her friends.
Always the teacher, Jean introduced both of her sons to music and tennis at early ages. She spent hours teaching her son Eric how to play the string bass, and also participated in the Geneseo College Orchestra with him while he was in high school.
Calling hours will be held on December 16, 2021 at 10 a.m. to 11 a.m. at the St. Christopher's Catholic Church in Speedway, Indiana followed by funeral services starting at 11 a.m. The gravesite service will start at 1:30 p.m. at Oaklawn Memorial Gardens in Indianapolis, Indiana.