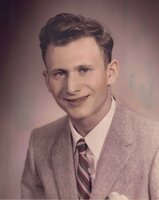 Ronald J. Aprile
Ronald J. Aprile, age 82, of Geneseo, died Saturday, November 13, 2021 at the St. James Hospital in Hornell, NY. He was predeceased by his twin brother, Richard, brothers, Joseph and Robert "Benny" Aprile, sister, Diane Campfield, nephew, Joey Aprile and niece, Culleen Aprile.
He is survived by his brother, Charles (Geri) Aprile Jr. of Avon, sister in law, Takako Aprile of CA, brother in law, Richard Campfield of Geneseo, nieces and nephews, Judy (Ron Burke) Aprile, Dawn Aprile, Chip (Cindy) Aprile, Richard (Sarah) Aprile, June Ebersold, Ann Campfield, several great nieces and nephews.
Ronny was born February 7, 1939 in Dansville, NY the son of Charles and Josephine Cipriano Aprile, Sr. He was a graduate of Geneseo Central School where he earned Track and Field Honors. In 1965 Ronny established and operated the Geneseo Liquor Store on Center Street until his retirement.
"What you don't learn today you'll learn tomorrow"
Calling hours will be held on Thursday, November 18, 2021 from 5-7 PM at the Rector-Hicks Funeral Home, 111 Main St. in Geneseo. His Funeral Mass will be held on Friday, November 19, 2021 at 9:30 AM at St. Mary's Church, 4 Avon Rd. in Geneseo with Father Sylvester Bioh officiating. Burial will be in St. Mary's Cemetery in Geneseo.
In lieu of flowers, memorials may be made to the Livingston County Office of the Aging, 3 Murray Hill Dr., Mt. Morris, NY 14510 or the Geneseo-Groveland Food Pantry, 31 Center St., Geneseo, NY 14454.