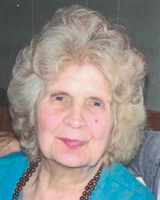 Betty Marie Brock
Betty Marie Brock died peacefully in her home on October 14, 2021. Betty was born to Lenard and Lena Stone on November 11, 1925 in Livonia, NY. Betty was predeceased by her loving husband, Richard "Bernie" Brock, sons in law, Alan Cole and Eddie Englebert.
She is survived by her 9 children, Richard (Mary K.) Brock of Wadsworth, Rose Englebert of Leicester, Patty Cole of Wadsworth, Jerry (Cindy) Brock of Conesus Lake, Bernie (Kathy) Brock of Mt. Morris, Linda (Ross) Boor of Piffard, Donna (Dawn) Brock of Conesus Lake, Diane (Terry) Joyce of Delray Beach, FL, Cheryl McConnell of Wadsworth, 56 grandchildren including great and great great grandchildren, sister, Beverly Scrondras of Piffard, sister in law, Bea Cicero of Leicester, brothers in law, Vincent Brock of Mt. Morris, Ray Brock of Greigsville, good friend Kate Mensinger, many nieces, nephews and relatives.
Betty married Bernie Brock on December 12, 1942 in York, NY. They lived in Wadsworth for the rest of their lives. Bernie passed in 2003 and they were married 61 years. They had 9 children, 56 grandchildren and the good times and fond memories began.
They would go to Florida in the winters with 9 kids, a dog and a friend or two. Betty and Bernie loved to take rides with the kids and then their grandkids. There were many great meals at their home, Betty peeling 10 lbs. of potatoes and cooking for all. Many friends would wonder in and would be invited to eat. Christmas at the house was full, fun and every room in the house was full of family and a great meal was served. Betty was a hard worker and kept her home immaculate.
She enjoyed going to Bingo with her daughters and having card games at home. Betty was a beautiful woman with a lot of pride. She would have her hair done and would put make up on right until the end. She loved her family and made sure each and every child and grandchild got a birthday gift. She was always surrounded by family. Betty will be missed but never forgotten.
Calling hours will be held on Thursday, October 21, 2021 from 4 – 7 PM at the Rector-Hicks Funeral Home, 111 Main St. in Geneseo where Funeral Services will be held on Friday, October 22, 2021 at 11 AM. Interment will be in St. Mary's Cemetery in Geneseo.
In lieu of flowers, memorials may be made to the York Ambulance Fund, PO Box 95, York, NY 14592.