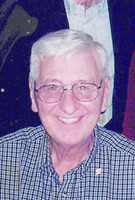 Donald E. Benson
Donald Edward Benson, age 88, of Geneseo, died Thursday, October 7, 2021 at Highland Hospital in Rochester, NY. He was predeceased by his parents, Donald and Stella Benson, sister, Mary Jane Baxter, son, Mark Benson, and step daughter, Tara Hawkins.
He is survived by his daughters, Dawn (Joseph) Sharp of VA, Julie Benson of PA, grandsons, Nicholas and Samuel Sharp, step son, Justin (Jessica) Hawkins, and his mother, Jeanie Benson, step granddaughter, Alexandria Hawkins, nephews, Donald (Cindy) Baxter, Rob (Anne) Baxter.
Donald was born August 18, 1933 in Colegrove, PA the son of Donald Carl and Stella Zlobec Benson. He was a US Navy Korean War Veteran. He retired from the Department of Labor as a Grants Management Specialist.
Calling hours will be held on Friday, October 8, 2021 from 5-7 PM at the Rector-Hicks Funeral Home, 111 Main St. in Geneseo. His Funeral Mass will be held on Saturday, October 9, 2021 at 9:30 AM at St. Mary's Church, 4 Avon Rd. in Geneseo with Father Sylvester Bioh officiating. Burial will be in St. Mary's Cemetery in Geneseo.
In lieu of flowers, memorials may be made to the Genesee Valley Audubon Society, PO Box 15512, Rochester, NY 14615.