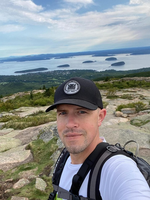 Ron Lee Livermore
Ron Lee Livermore, age 38, of Leicester, died suddenly Saturday, September 25th, 2021. He was predeceased by his mother, Kelli Uhl, sister, Melissa Uhl, maternal grandparents, Merle and Loralie Cecotti.
He is survived by his wife, Katie Swearingen Livermore, sons, William Reese, Tate and Seth Livermore, father, Kurt (Cherie) Uhl, sister, Kristi (Monica Astacio) Brock and their children Angelo, Frances, Max and Tristan, brothers, Dana (Amanda) Johannes, Nicholas Johannes, paternal grandparents, George and Eileen Livermore, many aunts, uncles, cousins and in-laws, and many close friends.
Ron was born December 12, 1982 in Bremerton, WA the son of Richard L. Livermore and Kelli L. Cecotti. He was an above ground Site Foreman for American Rock Salt in Mt. Morris, NY.
Calling hours will be held on Thursday, September 30th 2021 from 2-5 PM at the Rector-Hicks Funeral Home, 111 Main St. in Geneseo. A Celebration of Ron's Life will continue Thursday, September 30th, 2021 from 6-10 pm at the A-On-DO-Wa-Nuh Sportsman Club, 4716 River Rd. in Cuylerville.
In lieu of flowers, memorials may be made to Tate and Seth's Education Fund, Tompkins Bank of Castile, 11 South Street, Geneseo, NY 14454.