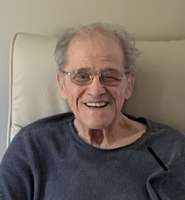 David J. Scoville
David J. Scoville, age 87, of Mt. Morris formerly of Geneseo, died Monday, August 23, 2021 at the Livingston County Center for Nursing and Rehabilitation in Mt. Morris. He was predeceased by his brothers, Philip Scoville Jr. and Frederick Scoville.
He is survived by his wife, Christie Scoville, children, Christopher (Eileen) Scoville of Honeoye Falls, Eric (Katherine Sheppard) Scoville of Geneseo, Dale ( Colleen) Scoville of Geneseo, Allison Hilimire of Livonia, Suzanne (Dave Miller) Bono of Geneseo, Steven (Stephanie) Scoville of Geneseo, step children, Michelle Backus of CA, Adam (Tracey) Backus of Livonia, Mark Backus of Cherry Valley, NY, Mollie Higdon of MD, many grandchildren and great grandchildren, brothers, Daniel and Larry Scoville both of Geneseo, several nieces and nephews.
David was born December 23, 1933 in Rochester, NY the son of Philip and Christina Curcio Scoville Sr. He was a well-known carpenter and contractor in the Genesee Valley. Dave was on the forefront of the senior housing movement in the State.
Calling hours will be held on Thursday, August 26, 2021 from 4 – 7 PM at the Rector-Hicks Funeral Home, 111 Main St. in Geneseo where Memorial Services will be held on Friday, August 27, 2021 at 11 AM. Interment will be in St. Mary's Cemetery in Geneseo.
In lieu of flowers, memorials may be made to Mt. Morris Ambulance Service, 103 Main St., Mt Morris, NY 14510.