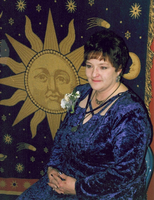 Paulette P. Demauro
Paulette Parks Demauro, age 67, of Lakeville, died Sunday, August 8, 2021 at Strong Memorial Hospital in Rochester, NY. She was predeceased by her daughter, Jennifer Burch and her parents, Paul and Dorothy Parks.
She is survived by her lifelong partner of 31 years, Randy Tubiolo, daughter, Jacquelyn (Leslie) Jackson of York, grandchildren, Christopher and Justyn Jackson, Dakota and Kaitlyn Hill and their father, Timothy M. Hill Jr. of Geneseo, several aunts, uncles and cousins.
Paulette was born July 27, 1954 in Rochester, NY the daughter of Paul and Dorothy Parker Parks. She was a Nurse at Strong Memorial Hospital and retired as an in home nurse in the Rochester area retiring from Lifetime Care.
Calling hours will be on Saturday, August 14, 2021 from 2-5 PM at the Rector-Hicks Funeral Home, 111 Main St. in Geneseo where Memorial Services will follow at 5 PM.
In lieu of flowers, memorials may be made to the Livonia Emergency Medical Service, PO Box 8, Livonia, NY 14487.