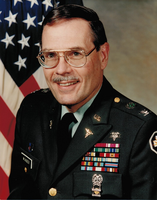 Donald B. Munger
Dr. Donald B. Munger, age 84, of Deer Run Estate in Groveland, died Saturday, June 19, 2021 at the Bath Veterans Hospital. He was predeceased by his wife, Rosita Munger and step son, Curtis Haight.
He is survived by his wife, Millicent Thompson Munger, sons, Eric Munger of Chicago, IL, Mark (Nga) Munger of Yucca Valley, CA, grandsons, Ryan and Ian Munger both of Merced, CA, step children, Lorri (Tom) Pearson of Mt. Morris, Steven (Carol) Haight of Mt. Morris, brother in law, Bernd (Dorrit) Grun of Hanau, Germany, several nieces, nephews and cousins.
Dr. Munger was born May 21, 1937 in Warsaw, NY the son of Lewis and Elva Laptham Munger. He served for 30 years in the US Army, including eight years of active duty, retiring as a Colonel and a Korean War Veteran. Dr. Munger was a Dentist for 56 years, the last 48 of which he spent in Mt. Morris specializing in oral surgery. He was a longtime member of the Geneseo United Methodist Church in Geneseo.
Calling hours will be held on Wednesday, June 23, 2021 from 4-7 PM at the Rector-Hicks Funeral Home, 111 Main St. in Geneseo where Masonic Services will follow at 7 PM. His Funeral Service will be held on Thursday, June 24, 2021 at 1 PM at the Geneseo United Methodist Church, 4520 Genesee St. (Route 63) with Rev. Keith Griswold officiating. Burial with full military honors will be in Pleasant Valley Cemetery in York.
In lieu of flowers, memorials may be made to the V.F.W. Post # 5005, P.O. Box 221, Geneseo, NY 14454.