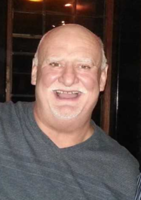 Richard H. Ellis
Richard H. Ellis, 70, of Rochester formerly of Leicester, passed away on Tuesday, April 6, 2021. He was welcomed into the arms of his late parents, Roy and Gertrude Ellis.
Richard is survived by his beloved wife, Marcia, his children, Melissa (Matt Ridley) Otis, Ryan (Danielle Foreshee) Ellis, Audra (Jeff) Kelley, and Michael (Maia Simon) Brown, his siblings, Carolyn Ellis, Roy (Heather) Ellis, and Linda (Kim Burger) Ellis, his uncle, Cliff Stevens, his best-friends, Dennis, Jack, and Bo, many cousins, and too many friends to count. He also leaves behind the lights of his life, his grandchildren, Olivia Otis, and Jack "Scooter" Kelley.
Calling hours will be held at New Comer Cremations & Funerals, 6 Empire Blvd, Rochester, NY 14609, on Thursday, April 8, 2021 from 4:00pm-7:00pm. Additional calling hours will be held at Rector-Hicks Funeral Home, 111 Main St., Geneseo, NY 14454, on Friday, April 9, 2021 from 4:00pm-7:00pm.