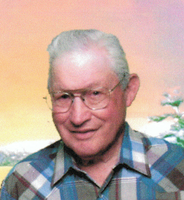 Gordon Leigh Hawk
Gordon Hawk, age 88, of Groveland, passed away on Friday, March 19, 2021 at his residence.
Gordon was born December 14, 1932 in Dansville, NY the son of the late Edward V and Alida Bassage Hawk. He was also predeceased by his brothers, Duane and Albert Hawk, and a nephew Steven Hawk. On August 22, 1959 he married Frances McCauley who survives.
Gordon graduated from Dansville High School, Class of 1950. He was a member of the IBEW Local 86 Electrical Union and retired from Vanderlinde Electric in Rochester where he was employed for 33 years before retiring in in 1992. He was a member of the Phoenix Lodge No 115, F & AM, a Director and Past President of the Big Tree Conservation League and 7th Degree member of the Grange as well as numerous antique tractor and engine clubs. Gordon enjoyed gardening, trapshooting and traveling, having spent 25 winters in Florida. His pride and joy was his 1935 John Deere B on steel, as well as his large collection of John Deere models and model trains which were always on displays at shows.
Besides his wife, Gordon is survived by nephews, Jeremy (Dawn) Hawk, Doug (Cindy) Hawk, Michael (Shirley) McCauley, niece, Marilyn (Henry) Robin and sisters in law, Janice and Judith Hawk.
Friends may call Saturday, April 10, 2021 at the Groveland Federated Parish, 6616 Groveland Hill Rd. in Groveland, from 10-11 AM where Funeral Services will follow at 11 AM. Private Burial will be in Greenmount Cemetery in Dansville.
In lieu of flowers, memorials may be made to Groveland Federated Parish, 6616 Groveland Hill Rd., Groveland, NY 14462.