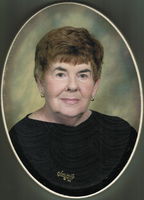 Marianne B. LaGattuta
Marianne B. LaGattuta, age 88, of Geneseo, died Friday, March 12, 2021 at the Millard Fillmore Suburban Hospital in Williamsville, NY. She was predeceased by her brothers, Jack (Barbara), Dan (Ann) and Robert (Joan) Bartels.
She is survived by her loving husband of 64 years, Nicholas, children, Barbara (Rod) Schirmer of Leicester, Margaret (Todd) Vandervort of Albany, Betsy (John) Maio of Albany, Jack (Tami) LaGattuta of Cleveland, OH, 6 grandchildren, 2 great granddaughters, sister, Carolyn (John) Cave of Buffalo, brother, Don Bartels of Buffalo, many nieces and nephews.
Marianne was born July 31, 1932 in Buffalo, NY the daughter of Edward and Anna D'Arcy Bartels. She retired from the Wyoming Central School District as a grade school teacher.
Calling hours will be held on Monday, March 15, 2021 from 2-4 PM at the Rector-Hicks Funeral Home, 111 Main St. in Geneseo. Her Funeral Mass will be held on March 16, 2021 at 10 AM at St. Mary's Church, 4 Avon Rd. in Geneseo with Father Thomas Statt officiating. Marianne's Mass will also be livestreamed at https://www.youtube.com/channel/UCLb4aX14NU9GRkCHPbCgznw Burial will be in St. Mary's Cemetery in Geneseo.
In lieu of flowers, memorials may be made to the Teresa House, 21 Highland Rd., Geneseo, NY 14454.