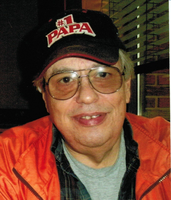 Donald D. Peraino
Donald D. Peraino, age 74, of Mt. Morris, passed away peacefully Sunday, February 21, 2021 at his residence. He was predeceased by his parents, Nunzio and Angeline Peraino, sister, Geraldine Norton.
He is survived by his beloved ex-wife, Susan Peraino, daughters, Amy (Phillip) Smith of Dansville, Marci Peraino of Mt. Morris, grandchildren, Chad Thomas of Dansville, Ashley Thomas of Dansville, brother, Richard Peraino of Geneseo, many cousins, nieces and nephews.
Donald was born February 28, 1946 in Warsaw, NY the son of Newton Anthony and Angeline Swozzi Peraino. He was a US Army Vietnam Veteran. Don was awarded the Western New York Pizza Hut Manager of the Year in 1985. He retired as Manager of the Pizza Hut in Henrietta. Don was a lifelong fan of the Cleveland Browns and a charter member of the Photo City Fanatics.
Calling hours will be held on Saturday, February 27, 2021 from 1-4 PM at the Rector-Hicks Funeral Home, 111 Main St. in Geneseo where Funeral Services will follow visitation at 4 PM with Pastor Stephen Sweeting officiating. Private Burial with Military Honors will be in Temple Hill Cemetery in Geneseo.
In lieu of flowers, memorials may be made to the Livingston County Hospice Fund, 2 Murray Hill Dr., Mt. Morris, NY 14510.