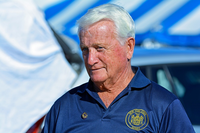 Richard "Dick" Gallivan
Richard "Dick" Gallivan, age 82, of Geneseo, passed away peacefully Sunday on his 44th wedding anniversary, January 31, 2021. He was predeceased by his parents, Raymond "Sonny" and Catherine Gallivan, brother, Paul (Alice) Gallivan, son in law, David Bol and brother in law, Robert Dietrich.
He is survived by his wife of 44 years, Sally Riley Gallivan, children, Senator Patrick (Mary Pat) Gallivan, Dr. Karyn (Joyce Maudie) Gallivan, Tracey (Jimmy) Crowley, Captain (ret-NYSP) Neil (Jen Reschke) Gallivan, Shannon Bol, Erin Weaver, Dr. Sean (Jen) Gallivan, Ryan (Julie) Gallivan, grandchildren, Conor, Jenna, Matthew, Claire, Catherine, Connor, Katie, Lizzie, Ali, Danny, David, Clare, Joseph, Michael, Nate, Isaac and Peter, siblings, Robert (Nan) Gallivan, Donald (Sheila) Gallivan, Mary Lou Dietrich, Rev. Msgr. David Gallivan, Kathryn (Jim) Kelley, Kevin (Ginna) Gallivan, many nieces, nephews, great nieces and nephews.
Dick was born January 29, 1939 in Buffalo, NY the son of Raymond "Sonny" and Catherine Herlihy Gallivan. He was a graduate of Bishop Timon High School in Buffalo and earned his Bachelor's Degree from Buffalo State College. Dick was a former member of the Buffalo Fire Department. He retired as a Captain of the New York State Police and was an Adjunct Professor at Corning Community College. After retirement he founded, owned and operated Hunt County Realty in Geneseo and served on the Geneseo Village Board of Trustees and Planning Board. He was a member and Past President of the Geneseo Rotary Club where he was presented with the Paul Harris Fellowship Award. He was longtime Rotary Summer Festival Chairman and Summer Concert Series Chairman. Dick also served on the Board of Directors of the New York State Special Olympics, as President of the Livingston County Chapter of the American Cancer Society and as a member of the Livingston County Traffic Safety Committee. Dick served as Superintendent of Temple Hill Cemetery in Geneseo.
Calling hours will be held on Wednesday, February 3, 2021 from 4-8 PM at the Rector-Hicks Funeral Home, 111 Main St. in Geneseo. Funeral Services will be Private. Burial will be in Temple Hill Cemetery in Geneseo.
In lieu of flowers, memorials may be made to the Geneseo Rotary Club, P.O. Box 216, Geneseo, NY 14454.