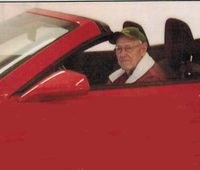 Gerald L. Levey
Gerald L. "Pa" Levey, age 94, a resident at Morgan Estates in Geneseo, formerly of West Sparta, died Monday, March 26, 2018 at Noyes Memorial Hospital in Dansville, NY. He was predeceased by his wife of 68 years, Caroline A. Levey, son, Gerald D. Levey and daughter, Gail Ann Levey.
He is survived by his daughters, Gloria (Ray) Johnson of Lockport, Patricia Levey of West Sparta, 7 grandchildren, Michael (Krista) Levey of Groveland, Gerad (Jennifer) Levey of Scottsville, Patrick Levey of West Sparta, Gail Ann (Mike) Stalker of Lockport, Jennifer (Renee) Johnson of Lockport, Caroline Ann (John) Marcilliott of Lockport, Marco A. Maluf Martins of Londrina, Brazil, 8 great grandchildren, Alicia and Jonathan Balbuzoski, Mackenzie, Tristian and Riley Ulrop, Madelyn Rose and William Levey all of Groveland, Faith Marcilliott of Lockport, several nieces, nephews and cousins.
Gerald was born June 1, 1923 in Mt. Morris, NY the son of Lester and Grace Flydie Levey. He was a Bus Driver for Craig Developmental Center in Sonyea, NY until his retirement in 1983. Gerald enjoyed camping and his numerous vehicles that he's owned over the years. Gerald was a 60+ year member of the Mt. Morris Masonic Lodge #122, a social member of the West Sparta Fire Department and a longtime member of the West Sparta United Methodist Church. He was also known for his long conversations and reminiscing with his family and friends. Gerald especially enjoyed his quality time with his grandchildren and great grandchildren.
Calling hours will be held on Wednesday, March 28 from 4-7 PM at the Rector-Hicks Funeral Home, 111 Main St. in Geneseo. Funeral Services will be held on Thursday, March 29, 2018 at 11 AM at the West Sparta United Methodist Church with Rev. Dawn Merritt officiating. Burial will be in Lakeview Cemetery in Groveland.
Memorials may be made to the West Sparta United Methodist Church, 4287 Redmond Rd., Dansville, NY 14437.