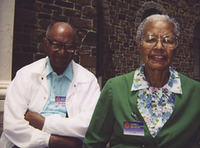 Dr. Clarence F. Stephens, Sr.
Dr. Clarence F. Stephens, Sr., age 100, of Stagecoach Rd. in Conesus, died Monday, March 5, 2018 at Strong Memorial Hospital in Rochester, NY. He was predeceased by his wife Harriette Briscoe Stephens in 2007.
He is survived by his children, Dr. Jeannette Stephens of Bellingham, WA, Clarence Stephens Jr. of Conesus, grandchildren, Phil Stephens of Richmond, VA, Kitten Panthera of Amesbury, MA, great grandchildren, Taylor Stephens, Maia Panthera, Destiny Grace and Hope Panthera, Many nieces and nephews.
Dr. Stephens was born July 24, 1917 in Graffney, SC the son of Sam and Jeannette Moorhead Stephens. He was a 1938 graduate of Johnson C. Smith University in Charlotte, NC. He earned his Master's Degree in 1939 and his Doctorate Degree in 1943, both from the University of Michigan. Dr. Stephens was the 9th African American to receive a Doctorate Degree. He was a WWII US Navy Veteran serving from 1942-46. He was assigned to the Great lakes Naval Base in Waukegan, IL, which contributed a vital role in developing the hydrogen bomb. He then joined the Mathematics Faculty of Prairie View A&M University in Texas. In the following year Dr. Stephens was invited to join the Mathematics Faculty as Chairman at Morgan State University in Baltimore, MD. In 1953 he received a one year Ford Fellowship to study at Princeton University's Institute for Advanced Study alongside Dr. Albert Einstein. In 1962 Dr. Stephens accepted an appointment at SUNY Geneseo as acting Chairman of Mathematics. In 1969 he joined the Faculty at SUNY Potsdam where Dr. Stephens served as Chairman of the Mathematics Department until his retirement in 1987.
Dr. Stephens received the Honorary Doctor of Science from Johnson C. Smith University in 1954. In 1962 Dr. Stephens was honored by Governor Millard Tawes of Maryland for distinguished service to education. In 1976 he received the SUNY Chancellor's Award for Excellence in Teaching. On February 28, 1983 Dr. Stephens was inducted and permanently placed in the National Museum of American History, Smithsonian Institution in Washington, D.C. In 1987 New York State Governor Mario Cuomo honored him for distinguished service to the State University of New York. He received the Honorary Doctor of Humane Letters from Chicago State University in 1990 and the State University of New York in 1996.
No prior calling hours. His Funeral Services will be held on Monday, March, 12, 2018 at 10 AM at the Central Presbyterian Church in Geneseo with Rev. Dr. Nancy Lowmaster officiating. Burial with Military Honors will be in Temple Hill Cemetery in Geneseo.
In lieu of flowers, memorials may be made to the Central Presbyterian Church, 31 Center St., Geneseo, NY 14454.