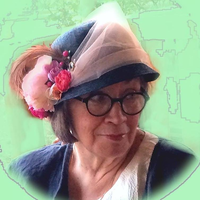 Julia M. Walker
Dr. Julia M. Walker, age 67, of Geneseo died, Sunday, February 25, 2018 at Strong Memorial Hospital in Rochester, NY. She was predeceased by her parents Donald and Peggy Walker and her brother James "Jim" Walker.
She is survived by adopted son, De'Von McRavion of Ft. Worth TX, foster daughter, Toni Lynne Odetunde of Providence RI, sister, Shirley (Dan) Walker of Durham, NC, nephews, William Conlin of Baton Rouge, LA, August (Merry) Conlin of Deep Gap, NC, pets, Milton, Daisy and Virgil Walker, dear friends, Will (Louise) Wadsworth and Anne Lutkus all of Geneseo.
Julia was born January 10, 1951 in Maryville, TN the daughter of James Donald "Don" Walker and Margaret "Peggy" Stewart Walker. She was an Alcoa High School graduate and earned her Bachelor's Degree and Master's Degree at the University of Tennessee, Knoxville and earned her Doctor of Philosophy at Purdue University in Illinois. Julia was a Professor of English at SUNY Geneseo for 32 years. She taught Renaissance literature, history, and gender politics. Julia cared for her students like she cared for her gardens and pets- with attention, respect, and great expectations. She was a devoted scholar, teaching passionately right up through the last week of her life. Julia is remembered by her students as someone who recognized, cultivated and encouraged their strengths, passions, and dreams. She had an incredible ability to insert her voice into the minds of those she mentored and loved, a voice that continued to quell self doubts for years past her teaching, and will for many years to come.
No prior calling hours. Her Memorial Service will be held on Saturday, March 17, 2018 at 3PM at St. Michael's Episcopal Church, 23 Main St. in Geneseo with Father William Daniel officiating. A Celebration of Julia's life will follow her Memorial Service at the Wadsworth Homestead in Geneseo.
In lieu of flowers, donations can be made to the SUNY Geneseo English Department, 1 College Circle, Geneseo, NY 14454.