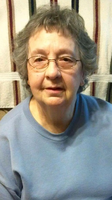 Angelina C. Cassavaugh
Angelina C. Cassavaugh, age 86, of Fox Run Apartments in Geneseo, died Friday, February 16, 2018 at her residence. She was predeceased by her husband, Lyman, sister, Carmella Seruati and brother, Gino Bascemi.
She is survived by her three daughters, Sharon Foster-Dale, Valerie Peter and Rene Riso all of Geneseo, many grandchildren, several great grandchildren, sister, Toni Cannarozzo of Webster, brother, Nicholas (Doreen) Buscemi of Hilton, several nieces and nephews.
Angelina was born February 4, 1932 in Rochester, NY the daughter of Peter and Margaret Colletti Buscemi. She was a retired Computer Operator from McKesson & Rubbins in Rochester, NY. Angie was a member of St. Mary's Church in Geneseo. She was very involved with the Livingston County Nutrition Center located in Mt. Morris and enjoyed her trips to the area casinos.
No prior calling hours. Her Memorial Service will be held Monday, February 19, 2018 at 1 PM at the Rector-Hicks Funeral Home, 111 Main St. in Geneseo with Deacon George Spezzano officiating.
Memorials may be made to the Geneseo Ambulance Fund, PO Box 428, Geneseo, NY 14454.