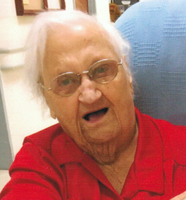 Grace M. Farruggia
Grace M. "Grop" Farruggia, age 88, of Retsof, died Sunday, February 11, 2018 at the Livingston County Center for Nursing and Rehabilitation in Mt. Morris. She was predeceased by her siblings, Anna (Louis) Pavoni, James Farruggia, Carmen (Loretta and Angie) Farruggia, Joseph (Peggy) Farruggia, Esther Farruggia and Charles (Carol) Farruggia Jr.
She is survived by her sisters, Mary (Art) Bernecker of Retsof, Mary Ellen (Jim) Callahan of Retsof, many nieces, nephews, great nieces, nephews and many cousins including Marjorie Fasano, her Angels on Earth, Chris, Elaine, and Shennon as well as her many friends at the Livingston County C.N.R.
Grace was born December 6, 1929 in Retsof, NY the daughter of Charles and Michalina Arrigenna Farruggia. She was retired from Kraft Foods in Avon. Grace was a long time member of St. Lucy's Church in Retsof.
Calling hours will be on Thursday, February 15, 2018 from 4-7 PM at the Rector-Hicks Funeral Home, 111 Main St. in Geneseo. Her Funeral Mass will be held on Friday, February 16, 2018 at 10 AM at St. Lucy's Church in Retsof with Father Edward Dillon officiating. Burial will be in St. Mary's Cemetery in Geneseo.
Memorials may be made to the Livingston County C.N.R. (Activity Fund), 11 Murray Hill Dr., Mt. Morris, NY 14510.