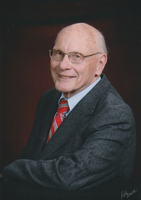 William G. Stein
William G. Stein, age 88, of Lakeville, died peacefully Monday, January 29, 2018 at Suzanne's Comfort Care Home in Perry, NY. He was predeceased by his wife, JoAn in 2009.
He is survived by his caring children, Barbara (Harry) Hellwig of Dansville, Robert (Katherine) Stein of Carversville, PA, Diane (Rev. Edmund) Hoener of Lakeville, William (Dana) Stein of Chicago, IL, 8 amazing grandchildren, Amanda and Laura Hellwig, Julia and Chloe Stein, David (Elizabeth) and Jeremy Glidden and Jonathan and Cristian Stein, several nieces and nephews, and many good friends.
William "Bill" was born July 23, 1929 in Rochester, NY the son of Julius and Mildred Berg Stein. He was an Irondequoit High School grad and earned his Bachelor's Degree from Heidelberg College in Ohio. Bill was a Marketing Manager and later a Human Resources trainer for RG&E in Rochester for many years before his retirement.
Bill was a life-long music lover, especially jazz and organ music. Bill and JoAn together spearheaded a successful fundraising effort that resulted in the magnificent pipe organ in the Central Presbyterian Church in Geneseo. The church is home to an annual Organ Concert Series. Bill helped to organize all the concerts through 2017 and his legacy will continue.
He was a skilled wood worker and general fixer-upper, and volunteered for many years at the Genesee Country Village and Museum in Mumford, a special place close to his heart.
Also close to his heart (literally) was the Cardiac Rehabilitation Program at Strong Memorial Hospital where he volunteered for many years. He had an enduring passion for breakfast with friends and family at restaurants and diners throughout the area. This was part of a broad community that will miss him dearly.
No prior calling hours. A Memorial Service will be held on Sunday February 11, 2018 at 2:00PM at the Central Presbyterian Church in Geneseo with Rev. Dr. Nancy Lowmaster officiating. Interment will be private in Mt. Hope Cemetery in Rochester.
In lieu of flowers, memorials may be made to the Central Presbyterian Church Music Memorial Fund, 31 Center Street, Geneseo, NY 14454.