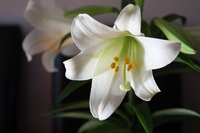 Joanne W. Echaniz
Joanne W. Echaniz, age 81, of Rochester, died Friday, January 26, 2018 at the St. John's Home in Rochester, NY.
She is survived by her husband, Carlos Echaniz, step daughters, Sara (Peter Krause) Echaniz of New Orleans, LA, Maria Puma of Mauldin, SC, grandchildren, Lucy, Sam, Jacob, Sara Rose and Grace, many nieces and nephews.
Joanne was born August 9, 1936 in Rochester, NY the daughter of Cecil and Agnes Gaugel Waskey. She was a graduate of Buffalo State College and was a teacher at East Irondequoit Grade School for many years.
No prior calling hours. Her Funeral Mass will be held on Wednesday, January 31, 2018 at 10 am at St. Mary's Church, 4 Avon Rd. in Geneseo. Burial will be in St. Mary's Cemetery in Geneseo.
In lieu of flowers, memorials may be made to the St. John's Home, 150 Highland Ave., Rochester, NY 14620.